The Esteemed Body Project is about transforming body discomforts into body acceptance, body positivity, & bringing stories to light. There are many ways we self-talk, focusing more on our own body shame, dysmorphia, & the other ways we talk ourselves into being uncomfortable with who & how we are. Taking the shame, changing it into something more positive & giving it a voice, can transform the way we perceive ourselves
Jaek
What makes you uncomfortable about your body?
My chest. I was unfortunate in the genetic roulette and cursed with an abundance of tissue and it's harder to bind because it's constantly shifting, pulling and pushing.
What's something positive about the above discomfort?
The hair. It's silly but I'm growing chest hair and while it's not a complete fur coat, it reminds me of how far I've come and how far I'll continue to go in my transition and that someday, I will be free of the unnecessary parts. I sometimes forget that they're there which is a sign of how much my mindset has changed.
Hana
What makes you uncomfortable about your body?
My hair makes me uncomfortable. There seems to be something wrong with all aspects of it. Both friends and strangers have told me to pluck my eyebrows. I hate that my eyelashes are short and slanted downwards. I don't want to shave/wax because my skin gets easily irritate and I think it's stupid, yet due to a lot of unpleasant past experiences, I think I'm a hairy beast and thus feel compelled to get rid of my body hair. On top of all this I have trichotillomania so I end up pulling hair randomly, leaving bold spots or sores.
What's something positive about the above discomfort?
Having thick, oily hair on my head allows me to not really worry too much about maintenance, and I try to tell myself that my body hair is the side effect of having a lot of hair on my head (which is nice because I can disguise my trich and not have to worry about extensions). I also tell myself that my eyebrows and eyelashes allow me to look more androgynous.
Vic Victory
What makes you uncomfortable about your body?
I am uncomfortable about my weight but my biggest issue is my belly. When I was pregnant with 1st, it was a twin pregnancy. We found out in the 7th month that her twin sister was anencephalic and would not survive. I carried nearly to term, which was an accomplishment under the circumstances. When I went into labor, they decided that a C-section would be necessary because the babies were in distress. We always knew that a C-section would be likely. When the doctor put me under and cut...he did not cut me the way a typical modern c-section is done. He did a big up & down cut that left a huge puckered scar. He was never the kindest most thoughtful doctor. Knowing him it was easy to imagine that he saw my stretch marks and my "fatness" and figured it didn't matter what kind of scar he left on my belly - it was "ugly" already. So he just cut whatever way.... "SLASH" ... get the babies out. Afterwards I was so glad to have my living child, and even got to have the dying one for a few days, I barely dared to ask why he'd cut me that way. I eventually weeks later asked him, "You had to do it that way to save my baby?" He almost blew off my question. Sputtered quickly, "yeah". That was it. I had a good doctor, the one I had deliver my next child years later look at the scar. SHE said that she could not imagine a medical reason to do that. It might have been easier for him personally, but no medical reason regarding the children's well being or mine. So, I have this puckered scar, large, under my belly-button and I am always worried what the next lover will think when he sees it. Will he not care? Will he see it as a heroic scar? Will he think it's hideous.
What's something positive about the above discomfort?
The obvious positive is that it is always a reminder of that fight to bring those girls into the world. My first-born is alive and strong and thriving to this day. Her twin sister lived longer than anybody in that hospital had ever seen an anencephaphic baby live: Two whole weeks! I got to hold both babies at the same time, one in each arm. It's the most important mark on my body. If I could afford a tummy tuck, DAMN RIGHT I WOULD DO IT.... lol.... but I gotta say, I would still somewhat mourn the loss of that mark and all the meaning behind that battle scar.
Ben
What makes you uncomfortable about your body?
So many things! My breasts, my hips, my obesity, my height, my tiny hands. I guess I'd say I feel most acutely uncomfortable about my breasts. Even before I realized I was trans, I still hated them for being so saggy and cumbersome.
What's something positive about the above discomfort?
It motivated me to take my first visible step toward transitioning- binding. Binding isn't exactly comfortable, but it's a relatively quick, easily reversible step, which makes it less scary as a starting point. And once I started binding there was a sort of snowball effect - I couldn't wait to do more and be seen as my authentic self.
Overall, despite all the things that still make me uncomfortable, I feel better about my appearance and my body than I ever have before.
Jette
What makes you uncomfortable about your body?
I am uncomfortable with my scars and stretchmarks and surgery areas. Also, with just my weight, in general.
What's something positive about the above discomfort?
Without those scars, I would not be here today or have the fantastic life that I have now.
(Jette has had a partial liver removal & 2 full liver transplants)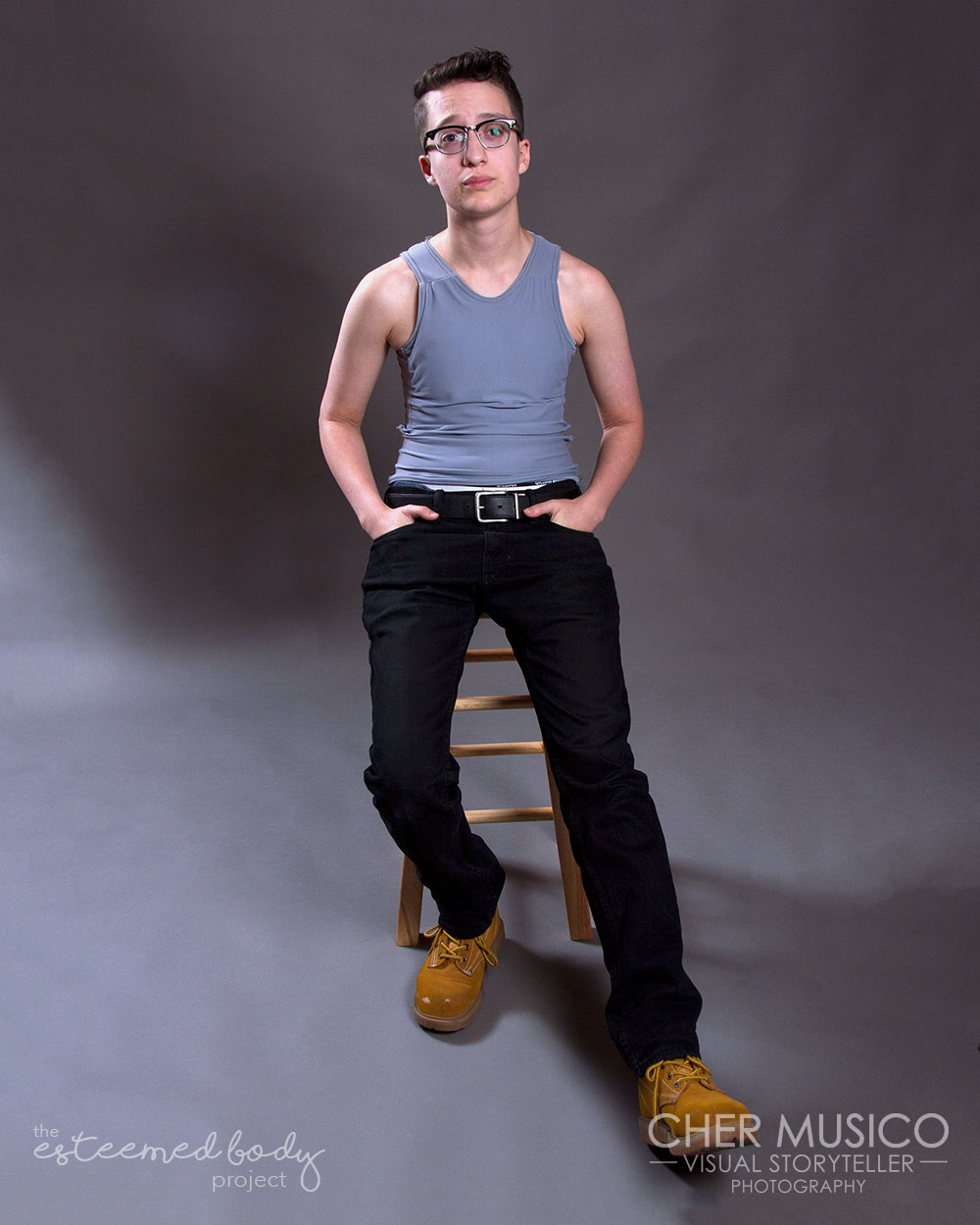 Sabre
What makes you uncomfortable about your body?
My body is not proportioned correctly. I am too thin but I have wide hips. I am so frail and weak so everything sticks out. I wish I could wear the style of clothing I want but I have to hide my unwanted features.
What's something positive about the above discomfort?
The plus side of being thin is that my unwanted features aren't large. Being small now leaves me room to grow once I am taking the Vitamin T I need to flourish. I know my life is unfolding in the proper direction and my future is extremely moldable.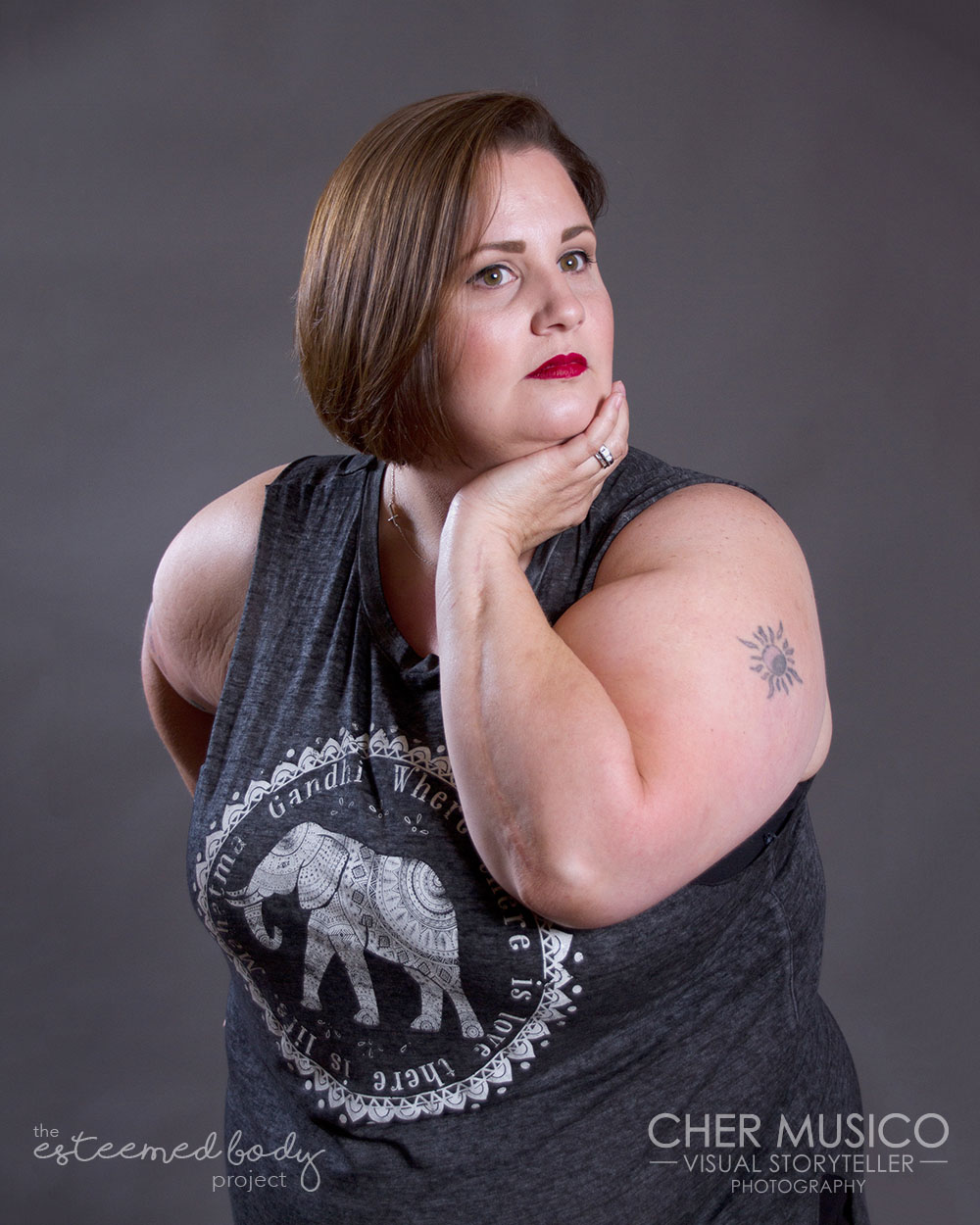 Pamela
What makes you uncomfortable about your body?
In simplest terms, the shape, size, dimples, scars, and rolls of my body. As far back as I can remember, it started with my mother telling me that I was fat and needed to lose weight. I was not only deeply wounded by her words but by her actions. When I was 12, she told me that I was possessed by the devil and that I wanted to weigh 500 pounds. It also, included her putting me on fasts and diets and giving me incentives to lose weight. I saw her as beautiful, dark, exotic looking and thin. I saw myself as fat, awkward, shy, and the ugly duckling of the family. My negative view of my body continued throughout my life when people would tell me that I had a beautiful face but I needed to be skinnier. My coping mechanism has been to hide myself behind camera angles, clothes and make-up in hopes that it would not reveal the deep wounds inside of me.

What's something positive about the above discomfort?
I'm learning to let go of the terrible things that have been said to me and that I have said to myself. I'm peeling the layers away, one step at a time to reveal my own inner beauty. By working out and eating healthier, I feel stronger on the outside and inside. I'm starting to feel good and alive in my own skin. I'm starting to like myself in and out of clothes and not just pretending anymore. I feel that thisopportunity to be in this project is one step closer to me being free and healing my inner wounds. And that's my positive.
Lisa
What makes you uncomfortable about your body?
My scar on my belly from my hysterectomy. Even though it's covered and not seen by anyone, except me and my wife, when I see it, my heart breaks all over again. Seeing it, I feel robbed that cancer took away my dream of being a mother. I know everyone says I don't have to have a biological child to be a mother, but I'll never know what it feels like to actually grow a life inside of me. It also reminds me of what a different person I am. How it's changed my way of thinking. My smile is not the same.

What's something positive about the above discomfort?
I have someone who loves me. She loves all my imperfections. When she kisses my scar...grabs my faces and kisses it all over, tells me I'm beautiful. Knowing that another person who can see the real me and not me seeing what I think I'm seeing and telling me that I'm beautiful. It makes my whole being bright up. No matter how my mind tells me something looks like, I know I can ask her and she will be truthful, even when I don't want to hear it or it hurts. I know she has my back and I know I am beautiful.
Click to scroll thru these images.
Best viewable on a desktop; information pops up on a mouse hover.
Some have information; not all do. More pics & stories to be soon available in our book.